KLAS EMERGING SOLUTIONS SPOTLIGHT REPORT
Moxe Digital ROI 2022
Streamlining Release of Information for Providers and Requestors
December 2022 | Performance Report
KLAS Research features Moxe Digital ROI in their Emerging Solutions Spotlight report, interviewing both provider and requestor customers about their experience with Moxe.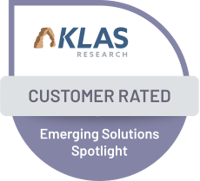 Customer Experience:

KLAS
Key Performance Indicators
Reimagine your Release of Information process.
Moxe simplifies clinical data exchange between providers and requestors to drive smarter, simpler healthcare operations and improved outcomes.
Our Digital ROI solution automates release of information (ROI) so that providers can focus on patient-centric initiatives and payers can obtain the clinical data they need in their required formats.
In this report, you'll learn more about the positive operational and financial outcomes our customers see by reducing manually processed ROI requests and improving turnaround times.
KLAS Research provides detailed insights and KPIs outlining our strengths across:
Adoption of Key Functionality
Overall Customer Satisfaction and Customer Loyalty
Time to See Outcomes
Expected and Unexpected Outcomes
Product Support
Company Culture, Operations, and Value
Operationally, we are receiving more data and reviewing it much more quickly than before. Financially, because we are reviewing more records, we are seeing a higher rate of return on chart reviews. We are getting comprehensive data, and we weren't getting that previously.
Because of the clinical data exchange in place, the system eliminates or minimizes the need for HIM staff to physically send medical records to a payer. Another outcome is a quick turnaround time. We are giving the folks who are chasing the medical records a lot of relief from having to do that.